In Ephesians 4:11-13, Paul emphasizes the church's important role of equipping people to do the work that God is calling us to. The purpose of our Equip Weekend is to inspire our church to serve one another and the world around us with the spiritual gifts, abilities, passions and personalities that God has given to us. This weekend is designed to prepare our leaders and volunteers for the season ahead. We have both ministry specific training as well as general teaching to benefit everyone.
All followers of Jesus have good news to share with our hurting world. Yet many of us are unsure how to start the conversation. How can we grow in our confidence and competence in sharing about a God who deeply cares about our lives? In a world that seems to put up a lot of barriers, how do we build bridges instead?

Our special guest Pastor Rob Parker (who lives in New Jersey near New York City) will join us live online. Rob will share with us insights on how we can identify where God is already at work and join Jesus on mission to love others. Pastor Ryan Tuck will look at the complexities of our Canadian culture. We will discover new lenses to view our world and practical ways to engage with those around us. Our interactive time together will equip us to share the good news of Jesus.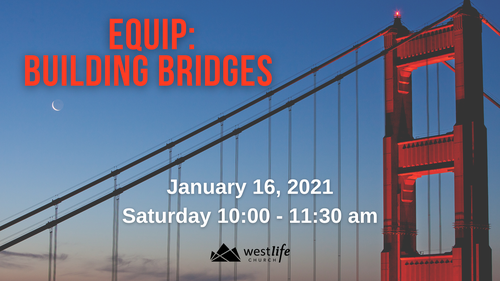 ENCOUNTER Worship & Prayer
Friday January 15 @ 7:00 – 8:00pm
Join us on our live stream channels or on Zoom.
Meeting ID: 870 1529 6013
Saturday January 16 @ 9:00 – 9:45am
Summit Kids Abuse Prevention
with Pastor Kara
Zoom Meeting ID: 403 242 3431
Passcode: Westlife

Summit Youth Leaders
with Pastor Quinn
Zoom Meeting ID: 425 311 0784

Leading Online Groups
with Pastor Ryan
Zoom Meeting ID: 403 307 0134



Worship Ministry
with Pastor Keith
Zoom Meeting ID: 882 9654 0188

Introducing Westlife Church
with Pastor Bryce
Zoom Meeting ID: 878 4483 0082
Passcode: 634809



Saturday January 16 @ 10:00 – 11:30am
"Building Bridges"
Zoom Meeting ID: 854 1373 6109